Payroll Services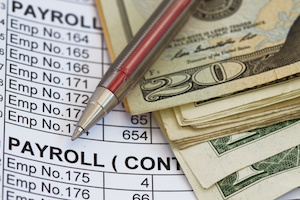 Guardian Tax & Accounting, LLC ensures your employees are paid on-time, mistake-free, and that you never miss a quarterly report. We generate the correct payroll documents, calculate pay and deductions, issue checks, and maintain accurate records.
We'll help you get the right forms to the right places, navigate payroll taxes, employee onboarding, and keep things organized so you can focus on your daily operations.
---
Stress-Free Payroll Processing
From quarterly or annual payroll tax returns, reporting, assistance with Oregon filing requirements, EFTPS payments, maintaining payroll information, and resolving discrepancies, we help you keep your business running smoothly year-round.
We offer a wide range of payroll services for small businesses, including:
940 – This form is used for employers to report their yearly unemployment tax. Properly reporting unemployment taxes means workers who have lost their jobs can be fairly compensated.
941 – This is a quarterly form filed by employers to report the wages they've paid, any tips their employees have reported, as well as employment taxes.
W-2 – All employers must file a W-2 form for each employee from whom income, social security, or Medicare tax is being withheld.
1099 – Form 1099 is used to report miscellaneous income (at least $600) that an employer has paid in rents, contracting, attorneys, awards, and other income payments.
OQ – OQ stands for Oregon Quarterly Combined Tax Report and is filed by employers to determine unemployment taxes due for the state of Oregon.
Quarterly Estimates – We help you know what to expect if you are are a sole proprietor, partner, LLC, or corporation.
---
Payroll Tax Reporting
With extensive knowledge of local and federal payroll tax laws, we consult with you to create personalized solutions for your business.
And by utilizing up-to-date accounting standards and administrative technology, Guardian Tax & Accounting provides assurance that your payroll is being handled efficiently and accurately.
---
Guardian Tax & Accounting has been representing local businesses since 2003. Call today for affordable payroll services, start-up services, and financial reporting.